Matform, a Chichester-based label specialist and engraving expert, has installed a Mimaki UJF-7151 Plus direct-to-object flatbed LED UV printer via CMYUK.
The machine, which has a replaced a decade-old Mimaki UJF-3042 FX, significantly expands Matform's capabilities and the range of applications it can produce.
'We loved our old Mimaki but obviously, we were restricted by its A3 print size,' said works manager Ian Curling. 'With the Mimaki 7151 Plus, it's comfortable enough for a single operator to either load six sheets or a large single one. We no longer have to turn work away.'
His colleague, sales manager Jon Tucker, added 'With the 7151Plus, we're able to produce eight-up artwork, whereas with our old A3 machine we were restricted to two or three. Our investment exposes us to many new opportunities – taking us beyond labels and into the promotional side of the market.'
The UJF-7151 Plus can print at up to 1200dpi directly onto substrates up to 153mm thick and is intended to provide a digital alternative to traditional screen printing processes.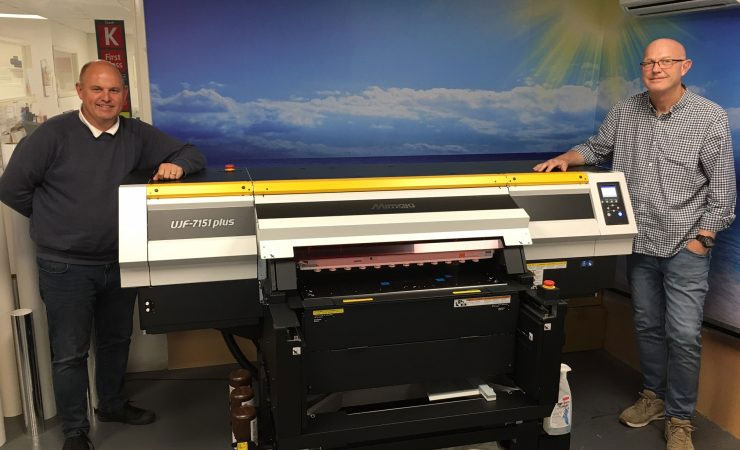 Mr Tucker continued, 'The fact that it's such a versatile piece of equipment that can handle a wide variety of substrates, it will attract new customers and with them new applications. The bigger bed allows us to print single large pieces, and place more specific shapes onto it.'
The printer uses Mimaki's UV curable LH 100 inks and comes with process, white and clear inks plus a primer making it well suited to personalised giftware, bespoke products, control panels, pens, packaging, small to medium-format rigid signage, instrumentation and gauge faces, custom components, branded electronic device cases, covers and other similar products.
Matform is already using the white ink to carry out in-house cold embossing, as Mr Curling explained, 'The ink is quite forgiving. You can adjust the software for levels of opaqueness, you can lay down two coats of white or as many layers as you want. There's also a varnish option. We've had quite a few customers ask us about producing Braille labels  as we have the ability to build layers with the varnish to create a Braille effect.'
Mr Tucker then concluded, 'We're printing unique markings on so many different substrates – we've printed codes on wood for restaurants. The point is now whatever customers require we can fulfil it in-house. We now have the capabilities  that allow us to be truly versatile. Word is getting out – yes labels are our main business but we can offer so much more. Whatever a customer requires we make it our business to deliver.'