WHAT IS THE DIFFERENCE BETWEEN DIRECT THERMAL AND THERMAL TRANSFER PRINTING?
Each method uses a thermal printhead that applies heat to the surface being marked.
Direct Thermal printing does not require ribbon, it creates the image directly on the printed material. Direct thermal media is more sensitive to light, heat and abrasion, which reduces the life of the printed material.
Thermal Transfer printing uses a heated ribbon to produce durable, long-lasting images on a wide variety of materials.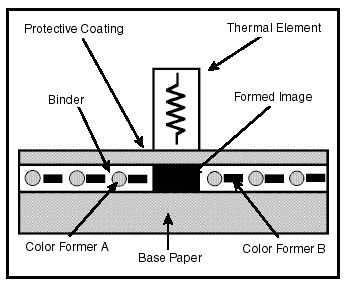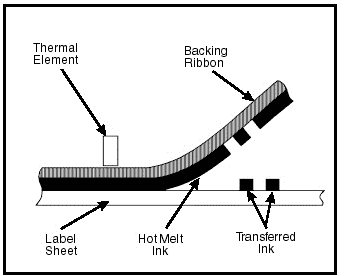 WHY ARE DIRECT THERMAL AND THERMAL TRANSFER THE PREFERRED TECHNOLOGIES FOR PRINTING BARCODES?
Thermal label printers are ideal for barcode printing because they produce accurate, high-quality images with excellent edge definition. Thermal printers are engineered to print within tight tolerances and to produce the exact bar widths that successful barcode printing and scanning require. Each technology can produce one- and two-dimensional barcode symbology, graphics and text at the same print resolutions and speeds.
HOW DO I CHOOSE BETWEEN DIRECT THERMAL AND THERMAL TRANSFER PRINTING?
The following sections will help you understand the advantages and disadvantages of the technologies and how to select the appropriate print method for your application.

The advantages and disadvantages of Direct Thermal Printing:
| | |
| --- | --- |
| ADVANTAGES | DISADVANTAGES |
| Simplified operator intervention; no ribbon and adjustment are required. | |
| No ribbon wrinkle issues. | Reduced thermal printhead life. |
| No mechanical failures associated with ribbon drive mechanisms. | Will fade or turns "yellow" over extended periods of time. |
| | Operators must perform ribbon replacement each time the ribbon has been consumed. |
| Eliminates potential for mismatched labels and ribbons. | Potential for more downtime and mechanical failures. |
| Long life of printed image. | Opportunity for print quality issues due to mismatched of labels and ribbons or ribbon adjustments. |
| Printed image does not fade in direct sunlight and is more heat tolerant. | |
| Availability of colour ribbons. | |
| | |
| Wide selection of label materials. | |
| Good chemical resistance with some materials. | |